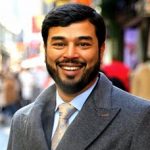 Personal Information
Nickname

Ammar Quettawala

Phone

Ammar Quettawala

First Name

Ammar

Last Name

Quettawala

Headline

Director, QTECX Solutions | Exoert in CRM, automation, integrations, customer data management

Current Position

Director

City

Sydney

Personal Bio/ Summary

I love to work with businesses to improve processes in their marketing, sales, and service areas. I help to increase the productivity and efficiency of the team, resulting in having additional time available for the businesses to focus on their core areas. I am a strong advocate of automation and passionate about helping businesses to be more efficient and productive. I run a high-class consulting, implementation and integration services company, QTECX Solutions. The company delivers excellent value and the superior customer experience in the domain of Customer Relationship Management (Marketing, Sales, and Customer Service), Enterprise Application Integration, Business Process Automation, and Robotic Process Automation.

With 20 plus years of consulting experience, I have worked with industries such as Banks & Financial Institutions, Higher Education, Retail, Food, Insurance, Airlines, Telecommunications, Utilities and many more. Recently, I have been focusing on the franchise sector to make it more efficient and attractive to the customers using my company's technology solution, FRANQ.

I have travelled globally for business and worked with industry leaders in North America, Europe, Africa, the Middle East, Far East, and Asia Pacific. I have lived in three countries.

Mobile Phone Number

448462821

LinkedIn
Personal Email Address
Additional Information
| | |
| --- | --- |
| Bx Groups you regularly attend | Bankstown, Sydney, Hawkesbury, Sydney, Parramatta, Sydney, Sydney CBD, Sydney, Sydney Hills, Sydney |
| Something not many people know about you | Loves to travel with my partner |
Business Information
Business Trading Name

QTECX Solutions

Business Category Type

IT – Business Systems Consultant, IT – Software Development/ Apps

Business Address

Yagoona, NSW 2199

Email Address
Business Phone Number

0448462839

Blog
About My Business

QTECX Solutions is a team of expert consultants for CRM, business process automation, data management, and applications integrations. We work on all aspects of customer relationships: business process management, marketing automation, sales enablement, and customer service.

We have been designing customer-facing applications, with our passion for delivering excellent customer experience. From client requirements to planning stage to implementation or consulting on a variety of challenges, we tailor our work to the individual unique requirements and needs of every client.

At QTECX Solutions, excellence is deeply ingrained in our DNA. We not only meet expectations but strive to exceed those every time. We strongly believe in delivering quality solutions designed to works for years.

Our team members have diverse expertise and have been associated with a number of industries: Higher Education, Retail, Franchise, Insurance, Airlines, Telecommunications, Utilities, and Banks & other Financial Institutions. The team members have worked in 20+ countries, from Australia, Far East Asia, the Middle East to Africa, Europe, and North America.

My Main Services Are

CRM

Business process automation

Application integrations

Data Management

Project Management and Training

What Makes My Business Unique (My P.O.D.)

Unmatched quality and customer experience. Excellence is deeply ingrained in our DNA. We not only meet expectations but strive to exceed those every time. We strongly believe in delivering quality solutions designed to works for years. All our customers give us 5-star references. 

My Special Offer to BxNetworking Members

2-hour consultation on how well you are set up for efficiency and productivity.

Website 1
Website 2
My Business xPerience
My xPertise

With 20 plus years of consulting experience, I have worked with industries such as Banks & Financial Institutions, Higher Education, Retail, Food, Insurance, Airlines, Telecommunications. Recently, I have been focusing on the franchise sector to make it more efficient and attractive to the customers using his company's technology solution, FRANQ.

I have travelled globally for business and worked with industry leaders in North America, Europe, Africa, the Middle East, Far East, and Asia Pacific. I have also lived in three countries.

I love to speak in business forums and conferences. I mentor business owners as well as university students to help them express their uniqueness and stand out as professional individuals. My life mantra is simple: "Be good, do good". 

My Passions

Building relationships, mentoring youngsters, be-good-do-good.

How I can Help Out Other Members

Besides offering services that I am expert on, I can guide businesses where to go if I am not the right person they are looking for.